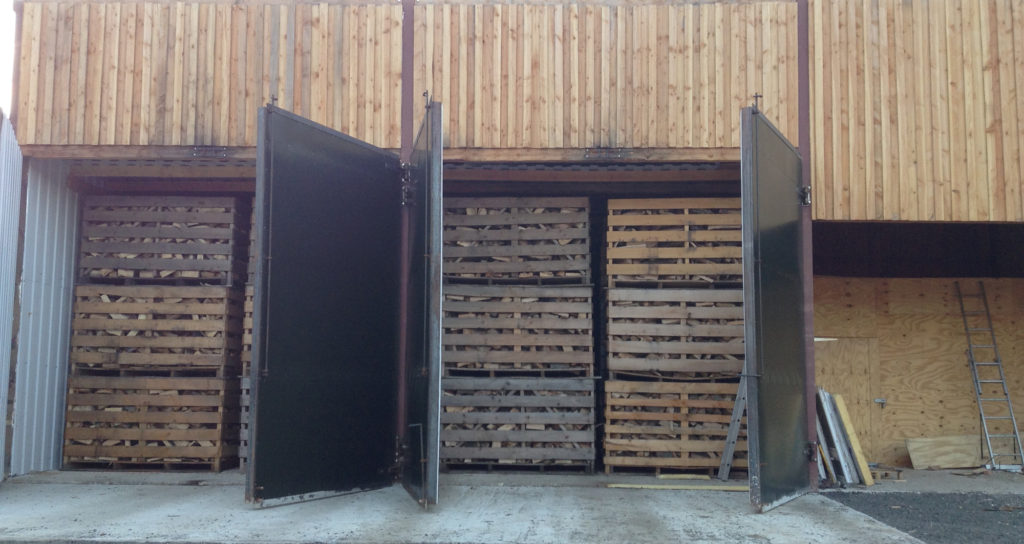 If you have been burning our 2 year old seasoned firewood then kiln dried logs are going to be a real treat for you!
Our Kiln dried logs have an 10-20% moisture content which means they are clean burning with high heat output and leave less flue and chimney residue than seasoned barn dried firewood.
Although it is almost certainly cheaper to buy semi-seasoned barn dried firewood the cost in lower heat output and potential damage to your chimney flue can make poor quality firewood far more costly in the long run.
We produce the kiln dried logs in our purpose built kiln barn, using Biomass Technology fueled from the by-product created in our sawmills. Our environmentally friendly approach means that nothings goes to waste and we will always be able to supply dry firewood on demand.
We recommend you give kiln dried firewood a try as research has shown it is very efficient and cost effective. If you have any questions please don't hesitate to contact Frank Haighton directly to talk through the benefits of switching.
Our kiln dried logs are cut to approx. 9 inches in length and can be delivered locally within 5 days for FREE with a full load.
See our prices :-
New Kiln Barn to dry firewood.
What is loose loaded logs?
Once the firewood has been dried they can be cleanly poured onto our trucks and swiftly delivery. Each truck is measured and divided up into cubic metre sections. The logs are loose loaded directly into these cubic metre sections via our specially designed machinery. Please note: to offer our customers a quick efficient service the logs are NOT neatly stacked at this stage and our measured accordingly. See our photos here.